Reading & Writing Level 4
Non-story books such as books on science are critical to reading success. At level 4, children are introduced to science-related texts such as the habits of animals and the manned space flight to the moon. Presentation of this material naturally entails more complex vocabulary (the words continue to become more advanced in terms of both meaning and spelling) and more sophisticated sentences.
| Level | New Words | New Words + Variants | Total New Words | New Books |
| --- | --- | --- | --- | --- |
| 4 | 63 | 180 | 243 | 6 |
Here is an example of teaching the word "people" through the Stay and Play format. In learning to read, it's important to go beyond single words and deal with words as they appear in books; namely, when they are used in combination with other words. Stay and Play achieves this goal.
First, in learning a word, in this case, the word people, a child sees a set of words: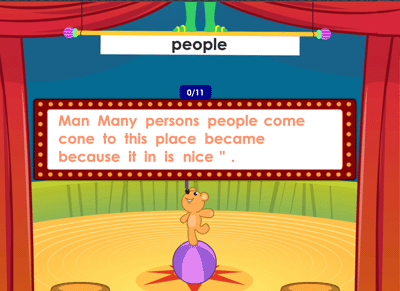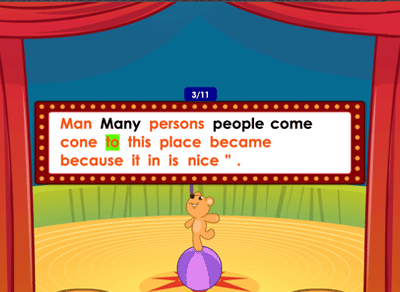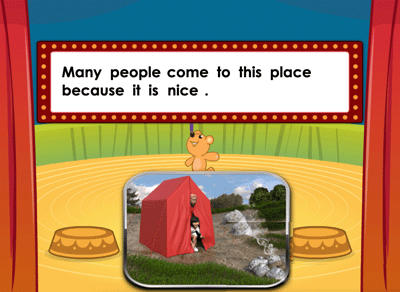 Based on the audio instructions, the child has to read and then click on selected words that then form a meaningful sentence. The sentence is followed by a graphic that illustrates its meaning
Then for the final step, guided by audio instructions, the child has to type some or all of the words in the sentence - including its punctuation. Here is an example of teaching the super sight word "until" through the Find and Fill format which teaches spelling. (Super sight words are a group of about 100 words - all of which are taught in ASD Reading - which occupy 50%-60% of every page of text in the English language.) In teaching spelling, it's common to ask children to write the same word several times in a row. Unfortunately, this tends to be ineffective. It's important to get the child to focus in a more thoughtful manner. The Find and Fill format is designed for that purpose.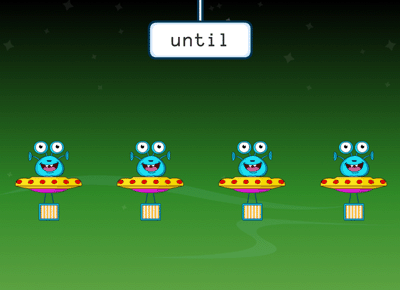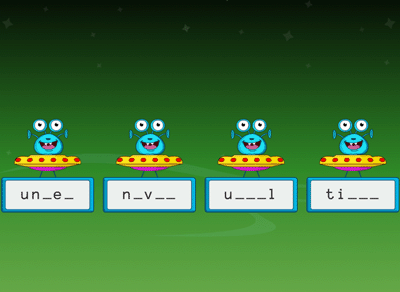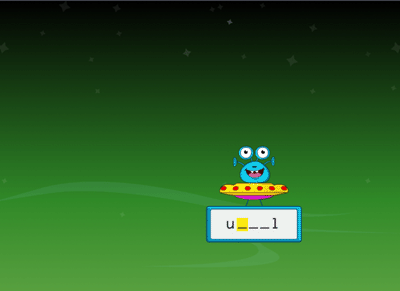 After learning all the words in a book, children are given the book to read and/or have read to them by the program. Level 4 has 6 books.
Here is a sample page from Book 24.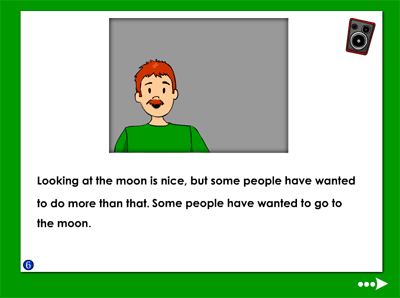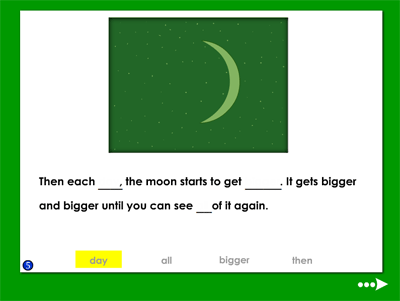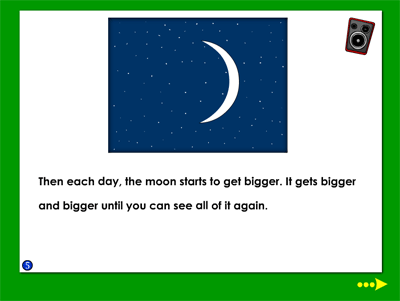 Key features of the books
All the books have engaging graphics, animations, sound effects and music.
Children are taught all the words in a book before beginning a book, so they can always read it successfully.
Children can click on any word to hear the word said aloud so they never have to face the frustration of not knowing what a word is "saying."
Length of time to complete
Typically one new word or one new book is offered in a session. Prior to teaching a word, the program determines if a child already knows that word, and if so, the program skips that word and moves on to the next word. As children become more proficient, they are taught two new words per session. Assuming 4 to 5 sessions a week, a level takes approximately 6-10 weeks to complete.